About neco*nano® collar
アンリッカラー™について/日本語
About neco*nano™ collar/English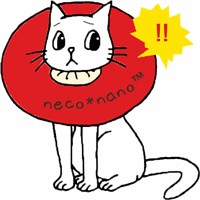 アンリッカラー™の偽物、模倣品にご注意ください
アンリッカラー™はneco*nano™のオリジナル商品です。
当店の許可なしに作成・販売することは禁止しています。
neco*nano™製品の正規取扱店以外で購入しないでください。
材料の一部は特別な素材を使用しています。
縫製方法も独自の工夫がしてあり、それにより製品の性能を高めています。
2016/5月以降に作成された正規品にはneco*nano™のタグがついています。
偽物・模倣品を見つけた場合は当店までご連絡ください。
アンリッカラー™の卸販売については現在準備中です。
Notice about Counterfeit/Copy Products
Please note that there are low quality counterfeit/copy collar that look identical to the genuine products.
・neco*nano™ collar is original products from neco*nano™ shop.
・neco*nano™ collar is forbid making/selling it without our permission.
We have used special materials and have made with original techniques to our collar to enhance the function.
Regular products of neco*nano™ collar made after 2016/5 has an original tag on each product.
Dear Customer
・Do not purchase neco*nano™ collar any place other than the regular retailer.
・Please contact us when you find counterfeit/copy products.
Wholesale
We will open the business soon.